BONUS BUCKS EVENT – HOLIDAY SEASON EDITION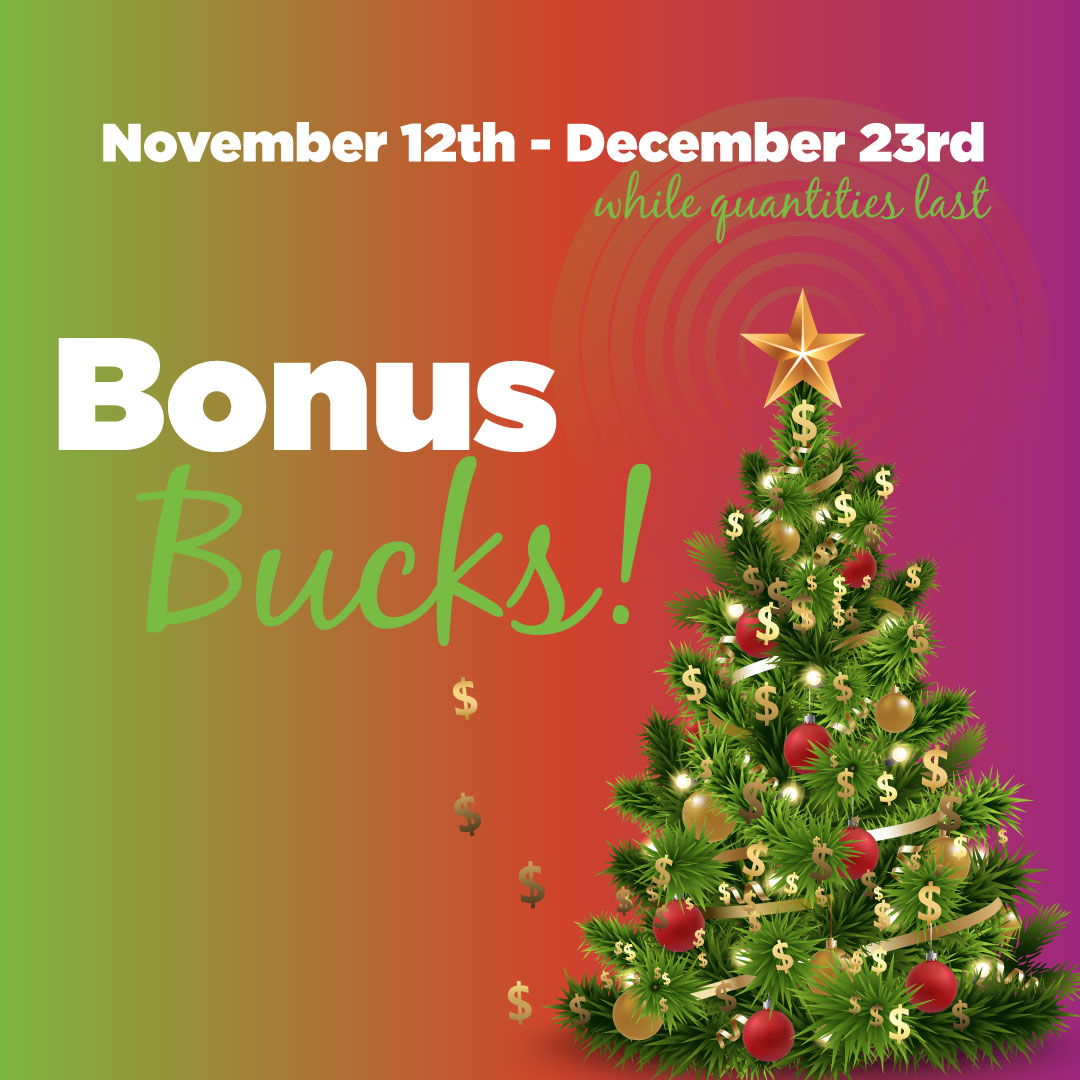 "BONUS BUCKS EVENT – HOLIDAY SEASON EDITION"
Promotion Rules
November 12
th

, 2023 – December 23rd, 2023
OR while quantities last!
The "BONUS BUCKS EVENT – HOLIDAY SEASON EDITION" promotion begins on Saturday, November 12, 2023 and ends when all associated Village gift certificates are claimed or on Friday December 2

3rd

, 2023 at 5 pm, whichever comes first.
An accumulation of Village Shopping Centre purchase receipts (min of $10) that amount to $200 or more, (tax incl.) may be validated at the Promotions Kiosk to receive $20 in Village Shopping Centre gift certificates.
Eligible receipts must be dated between November 12th and December 2

3rd

, 2023.
Electronic receipts (on smart device or printed out) or copies, are not eligible – they must be actual cash register receipts.
Each participant must present, in person, valid Government photo identification with proof of current address. Participants may only register their own purchases.
Participants may claim one $20 gift certificate for each one month (One in November and One in December) during this promotion.   All receipts may only be used once.  Once a receipt has been registered and validated, it may not be used in any other promotion offered at The Village Shopping Centre.
Layaway receipts are only eligible upon final payment. Bill payments or the purchase of gift cards are not eligible.
Gift certificates are valid only until December 31st, 2023. Prizes must be accepted as awarded, have of no cash value and are valid at all Village Shopping Centre merchants and may not be transferred or exchanged for cash money or used to buy retail gift cards. It is advised to use full amount as no change will be given.
If items on receipt(s) are returned less than 30 days after purchase – the $20 Village Shopping Centre gift certificate must be returned to the Administration Office.
Purchase receipts of travel arrangements at LeGrows Travel are only eligible for redemption on the originating receipt of travel arrangements with a maximum eligibility of $20 per person on receipt – if each person's purchase is over $200. All subsequent payments on original purchase are not eligible. Each person on receipt/itinerary must be present to validate receipt and receive their gift certificate.
This promotion is open to residents of Newfoundland and Labrador over 18 years of age. With the exception of any and all employees of any tenant, store, service or occupant of the Village Shopping Centre, their immediate families and all Plaza Group Management Limited employees and their immediate families.
Participants agree to all "BONUS BUCKS EVENT – HOLIDAY SEASON EDITION" promotion's rules by way of participating. All decisions relating to this promotion are to be made by the Village Shopping Centre and shall be considered as final.  The Village Shopping Centre reserves the right to discontinue or adjust rules of this promotion at any time.