VILLAGE BONUS BUCKS!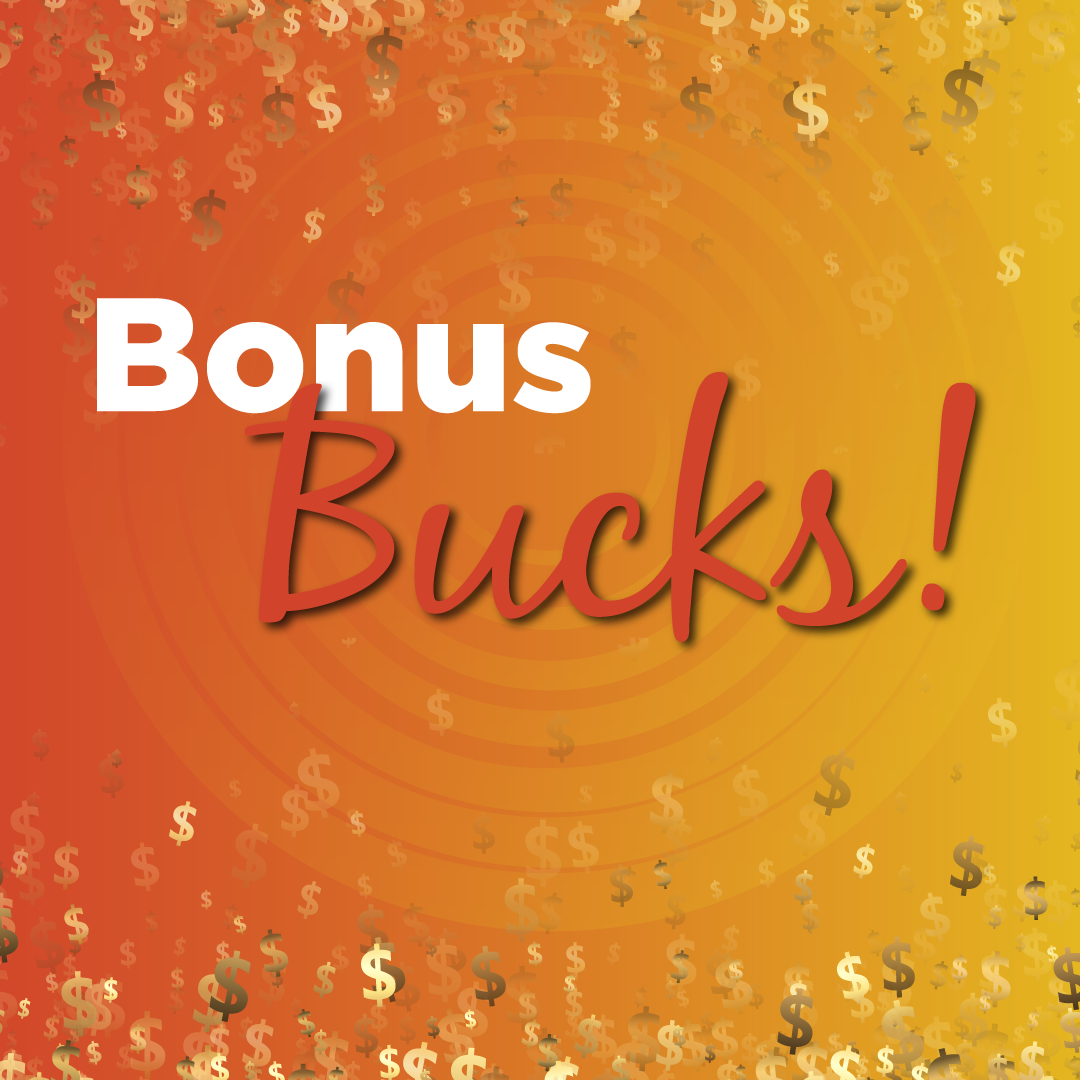 Collect this month's receipts and have the opportunity to claim your Bonus Bucks from August 24th until the end of the month or while quantities last.
"Village Bonus Bucks!" Promotion Rules
"Village Bonus Bucks!" promotional events take place the last 7 days of each month up to and including October 2023, or on other dates as per advertised.
Each event will have a limited number of gift certificates. Claiming of gift certificates will be on a "first come – first served" and "while quantities last" basis.
When the last gift certificate has been claimed, signage will be posted and retailers are notified that the promotion is over.
Each "Village Bonus Bucks!" promotional event will accept receipts designated eligible by date, as indicated and advertised for each event.
Participants agree to all "Village Bonus Bucks!" promotion rules by way of participating.
An accumulation of eligible Village Shopping Centre purchase receipts that amount to $200 or more, (tax incl) may be validated at the Promotions Kiosk, during the event dates, to receive one $20 Village Shopping Centre gift certificate.
There may be events whereby the denomination amount available to claim and/or eligible receipt dates change.
Village Shopping Centre receipts must be $10 or more (tax incl) to be eligible.
Maximum of one (1) $20 Village Shopping Centre Gift Certificate per person, per event, for the duration each event. Unless otherwise specified.
Electronic receipts (on a smart device or printed out), or copies of receipts are not eligible – they must be the actual cash register receipt of purchase.
The purchase of gift cards or layaways are not eligible.
Each participant must present, in person, valid Government issued photo identification with proof of current address. Participants may only register their own purchases and may not transfer receipts to another person to obtain a gift certificate.
If items on receipt(s) are returned less than 30 days after purchase – the Village Shopping Centre gift certificates must be returned to the Administration Office. If the GC is not returned the participant agrees to forfeit the next upcoming opportunity to participate.
Purchase of travel arrangements at The Village Shopping Centre's LeGrow's Travel will be eligible only with the original purchase receipt. Maximum eligibility of $20 per person. Any subsequent payments on the original purchase are not eligible.
Receipts from the Lotto King must have VSC Lotto King stamp clearly shown.
Promotional gift certificates have No Cash Value, cannot be used to purchase retailer gift cards and no change will be given. An entire amount of gift certificate must be used or the remaining amount will be forfeited.
"Village Bonus Bucks!" promotional gift certificates will have an expiration date and cannot be extended or replaced.
This promotion is open to residents of Newfoundland and Labrador over 18 years of age. Except for any and all employees of any tenant, store, service or occupant of the Village Shopping Centre, their immediate families and all Plaza Group Management Limited employees and their immediate families.
All decisions relating to this promotion are to be made by the Village Shopping Centre and shall be considered as final. The Village Shopping Centre reserves the right to discontinue or adjust the rules of this promotion at any time, including implementing a cap on the number or amount of GC's given away per day or event.